Electroforming
Electroforming is an electrochemical reduction process which allows to produce and reproduce an object that can be self-contained once it is separated from the substrate.

The applied electric current provokes a reduction-oxidation reaction of the metal ions between the cathode and the anode.

Electroplating is a process that limits the thickness of the layer, usually between 10-20 μm, but possibly as thin as 0.01 μm. It is used for decorative applications on an object.

Electroforming on the other hand deals with relatively thick layers of over 50 μm, usually between 100-300 μm.
Application
Creation of highly precise complex forms and hollow items.

A layer of a dozen of μm thick is enough to self-contain the object once it is separated from the substrate.

Precise reproduction of the wished shape.

Possibility to deposit on a rough surface.
Advantages
The thickness of the deposit isn't limited.

The deposit can be separated from the substrate.

A personalized after-sales service.


Disadvantage
· Deposit time is longer than for electroplating.
Electroforming standard technology and operation flow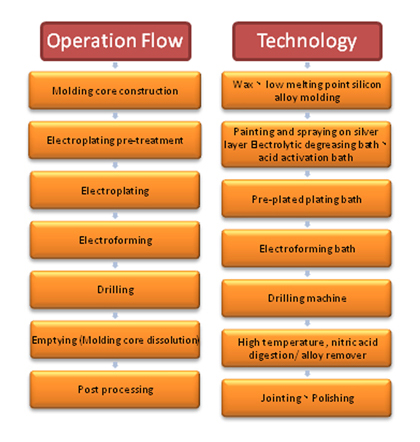 Silver electroforming bath


Semi-bright thick Silver deposits.

Alkaline bath.

Necessary to use Silver electrodes.

Electroforming bath can be operated at ambient temperature.

No limit in thickness.

Fineness can reach 99.99%.




Satin gold Bath

· Gold electroforming process used specially for highly refined Satin gold deposition.

· Operates at low temperature.

· Neutral bath (Gold potassium cyanide).

· No limit in thickness.

· Fineness can reach 99.99 %.

· Compatible with electroplating.

Hard gold bath

· 2 different baths: with or without cyanide.

· Hardness > 140HV.

· No limit in thickness.

· Both baths are neutral.

Hard gold bath

2 different baths: with or without cyanide.

Hardness > 140HV.

No limit in thickness.

Both baths are neutral.

Fineness can reach 99.99%.




Gold bath

The deposited layer contains one of the following combination: Au-Ag, Ag-Cu, Au-Cu-Ag, Au-Cu-Cd, Au-Cu-In.

The deposited layer can be of various colours, purity and thickness according to the metal used.

I

n general, they are alkaline baths containing cyanides.

The technician must be trained and experienced